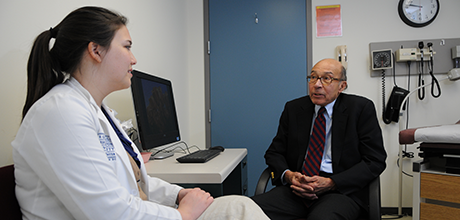 The old adage "Practice makes perfect" is a fitting theme for the CLASS Center's Outpatient Rooms. Building on the important advances in simulation methodologies, the education rooms can significantly improve the way teaching and evaluations for professionals in training are conducted. Equipped with the latest in video monitoring technology, the education rooms provide students with an opportunity to practice their skills under the watchful eyes of their instructors before actually applying them in the "real world."
Medical Education
The 14 rooms in this suite were created as outpatient examination rooms, designed to teach and evaluate medical students in basic clinical skills, including history taking, physical examination, communication and relationship building. Students have live encounters with "standardized patients," (people playing the role of actual patients) before encountering real patients. Standardized patients are specifically trained to consistently and accurately portray the history, physical findings, personality and emotional responses of actual patients, and to interact with the students as actual patients would. After the "examination," standardized patients play a role in the evaluation process, assessing students on a faculty-created checklist.
Everything that transpires during the encounter in the examination room can be viewed through the one-way mirrors and video monitors. In addition, the examinations can be recorded and digitally archived. Faculty then have the opportunity to offer their students pertinent feedback after directly observing their students perform in real time or after reviewing the recordings at a later time. Similarly, students have the opportunity to review and reflect on their performances.
Non-Medical Education
The built-in technology in the education rooms make them the perfect setting to teach students in any area that requires practice before interacting with real people. For instance, the education rooms provide an ideal environment for law students to practice taking a deposition, for students in secondary education to rehearse parent-teacher conferences, or for clinical social work or other counseling to prepare for sessions with clients.
The education rooms enable any encounter between student and actor to be viewed and videotaped and then critiqued, creating a one-of-a-kind learning experience for almost any student. For information on utilizing the examination rooms for your training exercise, please email us at class@gwu.edu or call at 202-994-1468.