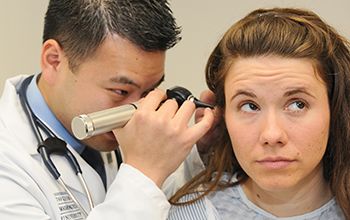 Standardized patients--playing the role of actual patients--perform an important role in the medical student's practical education: the learning of interviewing and physical examination skills.
Standardized patients are people who have been trained to reliably and consistently portray healthcare problems and then to evaluate students who examine them. They may critique student interviewing, physical examination and interpersonal skills; teach parts of the examination; or provide feedback to the students on specific patient situations. Some standardized patients may be trained for non-medical simulations or to assist with support roles, such as a spouse or adult child, during projects.
Standardized patients generally put in several hours of training and rehearsal for each case before working with learners. Training includes an introduction to the project, as well as learning how to assume a new identity, work with students and evaluate them after the visit.
Many projects include learning to simulate physical symptoms, like abdominal pain, back pain, fatigue, stroke or heart attack. Some projects provide students with the opportunity to deliver serious and difficult-to-hear information, such as the death of a loved one, likelihood of recovery, or discovery of an abnormal genetic or metabolic problem, before they have to deliver such news to real patients. All cases come from real patient experiences.
At times, the center is also used for faculty development, University department staff education and corporate employee training, which require non-medical portrayals.